Welcome Message
We warmly welcome all delegates to Singapore and to AISM 2010, the 4th Asia International Symposium on Mechatronics. AISM is a biannual conference with the 1st, 2nd and 3rd held in China in 2004, Hong Kong in 2006, and Japan in 2008, respectively.
For AISM 2010, there will be 15 technical sessions spanning the broad areas of Design, Manufacturing & Automation, Modeling, Control, and Sensing. We had 108 submissions from 16 countries and a total of 71 accepted papers will be presented at AISM 2010. The geographical and technology distributions of the registered papers can be seen in the two charts below. The panel discussion is on some future directions in mechatronics R&D. The keynote address by Prof Youngil Youm (UNIST, Korea) discusses biomechanics research and its use in robotics.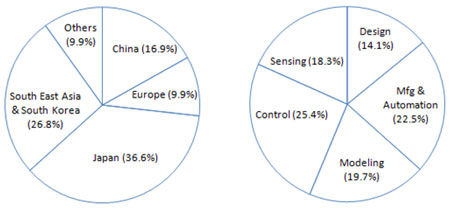 Eight papers have been shortlisted for "Best Paper Award" and the winner will be announced during the Banquet on 17 December. Selected papers will also be recommended for submission of an extended version to a Special Issue on Mechatronics in the International Journal of Automation Technology, which is targeted for publication in September 2011.
We are grateful for the timely guidance, advice and assistance of the International Advisory Committee over the past year. Our deep appreciation also goes to the International Technical Program Committee, comprising 42 members from 13 countries, for their hard work in the review of the papers, and to the local organizing committee for making AISM a reality. Our appreciation too to the trust placed on us to organize AISM in Singapore for 2010.
We hope you will also take part in the technical tours and social programs, and spend some time to explore Singapore, a dynamic cosmopolitan city-state rich in contrast and color with its harmonious blend of religion, culture, arts and cuisine.
We hope this symposium will bring about new friendships, stimulate new ideas, and further advance the technology and applications in mechatronics. We wish everyone a most pleasant experience in AISM 2010 and in Singapore!

Aun-Neow (Jim) POO
General Chair

Marcelo H ANG Jr
Technical Program Chair